Software Diagnostics and Debugging Reference
New! Includes the second edition of Encyclopedia of Pattern-Oriented Software Diagnostics.
Memory Dump Analysis Anthology contains revised, edited, cross-referenced, and thematically organized selected articles from Software Diagnostics Institute and Software Diagnostics Library (former Crash Dump Analysis blog) about software diagnostics, debugging, crash dump analysis, software trace and log analysis, malware analysis and memory forensics. Its 9 volumes in 11 books have more than 3,800 pages and among many topics include more than 320 memory analysis patterns (mostly for WinDbg Windows debugger with selected Mac OS X and Linux GDB variants), more than 70 WinDbg case studies, more than 130 general trace and log analysis patterns.
9 volumes in 11 books are now in the 2nd revision!
Tables of Contents and Indexes of WinDbg Commands from all volumes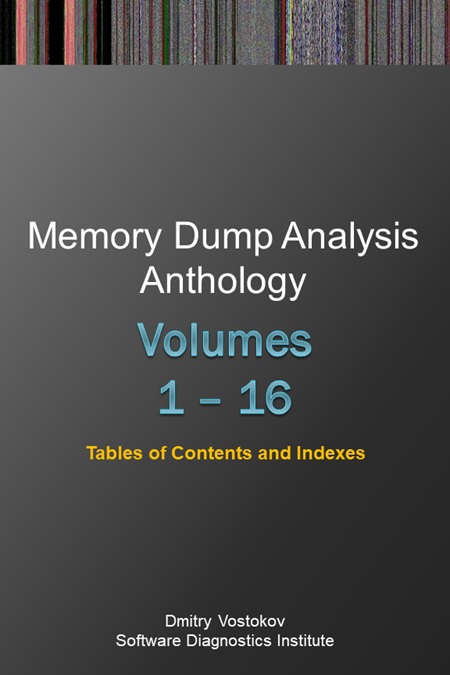 Click on an individual volume to see its description and table of contents:
The print version also includes 3-volume supplement with selected anthology articles reprinted in full premium color (more than 500 pages with almost 400 color illustrations). Click on an individual volume to see its description and table of contents:
You can buy either the 9-volume PDF set plus 2 Encyclopedia books with 40% discount or 14-book set plus 2 Encyclopedia books in paperback format with 60% discount and trackable shipping included (shipped from OpenTask publisher, some restrictions may apply) or both with further discounts:
If you are only interested in Memory Dump Analysis Anthology volume set in PDF format please use this link.
You also get free access to Software Diagnostics Library.
Note: We are not responsible for any loss or damage during shipment and delivery.