Software Diagnostics: The Collected Seminars
This is a collection of Software Diagnostics Services webinar transcripts about pattern-oriented software diagnostics developed by Software Diagnostics Institute. Includes 9 seminars on pattern-driven software problem solving, software narratology, pattern-driven software diagnostics, systemic software diagnostics, pattern-based software diagnostics, philosophy of software diagnostics, victimware, malware narratives and pattern-oriented network trace analysis.
Title: Software Diagnostics: The Collected Seminars
Authors: Dmitry Vostokov, Software Diagnostics Services
Publisher: OpenTask (September 2013)
Language: English
Product Dimensions: 28.0 x 21.6
PDF: 302 pages
ISBN-13: 978-1908043641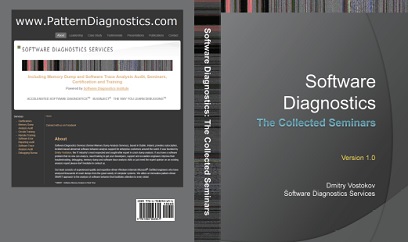 Price: 50 USD (including 50% discount from the price of hardcover edition).