Book: Accelerated Windows Memory Dump Analysis, Fourth Edition
New! Now includes a complimentary EPUB version in addition to PDF.
The full transcript of Software Diagnostics Services Training with 28 step-by-step exercises, notes, source code of specially created modeling applications and more than 100 questions and answers. Covers more than 60 crash dump analysis patterns from x86 and x64 process, kernel, complete (physical), and active memory dumps. The 4th edition was fully reworked to use WinDbg 10 and now covers memory dumps from Windows 10 x64. It also includes optional legacy exercises from the previous editions covering Windows Vista and Windows 7.
Title: Accelerated Windows Memory Dump Analysis: Training Course Transcript and WinDbg Practice Exercises with Notes, Fourth Edition
Authors: Dmitry Vostokov, Software Diagnostics Services
Publisher: OpenTask (May 2016)
Language: English
PDF: 872 pages
ISBN-13: 978-1908043467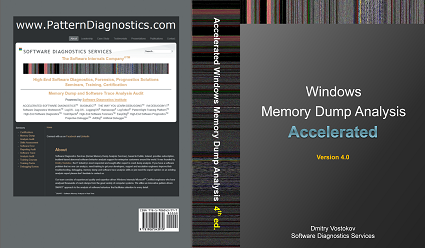 Table of Contents
Slides from the training
Additional materials referenced in the course (for the previous editions of the course, included in the 4th edition)
The course also includes Practical Foundations of Windows Debugging, Disassembling, Reversing PDF book.
When you purchase the PDF book you additionally get free named Software Diagnostics Library membership with access to more than 300 cross-referenced patterns of memory dump analysis, their classification, and more than 70 case studies. There is an option to buy 9 volumes of Memory Dump Analysis Anthology in PDF format (retail price $170) together with the course.
Historical video recording is also available for the previous editions