Book: Accelerated Windows Software Trace Analysis
The full transcript of Software Diagnostics Services Training.
Title: Accelerated Windows Software Trace Analysis: Training Course Transcript
Authors: Dmitry Vostokov, Software Diagnostics Services
Publisher: OpenTask (January 2013)
Language: English
PDF: 130 pages
ISBN-13: 978-1908043429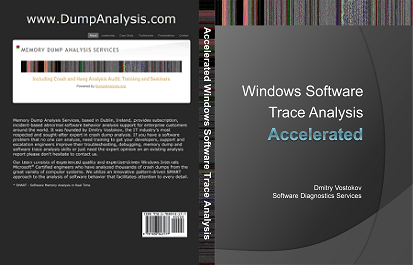 Table of Contents
Slides from the training
When you purchase the PDF book you additionally get recording of all exercises and free named Software Diagnostics Library membership with access to cross-referenced patterns of software trace and log analysis. There is an option to buy 9 volumes of Memory Dump Analysis Anthology in PDF format (retail price $170) together with the course.