Book: Accelerated Windows Malware Analysis
New! Now includes Practical Foundations of Windows Debugging, Disassembling, Reversing PDF book.
The full transcript of Software Diagnostics Services Training.
Title: Accelerated Windows Malware Analysis with Memory Dumps: Training Course Transcript and WinDbg Practice Exercises
Authors: Dmitry Vostokov, Software Diagnostics Services
Publisher: OpenTask (February 2013)
Language: English
PDF: 232 pages
ISBN-13: 978-1908043443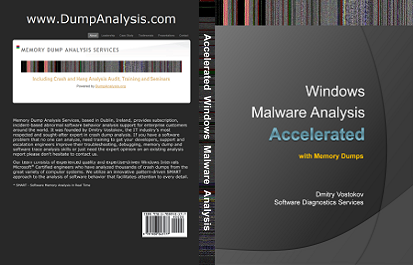 Table of Contents
Slides from the training
When you purchase the PDF book you additionally get free named Software Diagnostics Library membership with access to more than 300 cross-referenced patterns of memory dump analysis, their classification, and more than 70 case studies. There is an option to buy 9 volumes of Memory Dump Analysis Anthology in PDF format (retail price $170) together with the course.